As the coronavirus pandemic continues to spread worldwide, and with Singapore on a lockdown for (at least) a month, many people have remained home bound, disrupting their usual exercise routines. But the virus shouldn't stop us from exercising, which is more important now than ever before because sitting around at home is going to destroy our immune systems:
"..individuals who engage in habitual physical exercise of a moderate intensity exhibit a lower frequency of immune biomarkers associated with the immune risk profile." Aging, Persistent Viral Infections, and Immunosenescence: Can Exercise "Make Space"? 2011[1]
"Chronic exercise resulted in reduced symptoms, virus load, and levels of inflammatory cytokine and chemokines." Chronic exercise reduces illness severity, decreases viral load, and results in greater anti-inflammatory effects than acute exercise during influenza infection. 2009

[2]

"The results of the present study indicated a positive relationship between physical activity and the initial immune response to a specific antigenic challenge in the present sample of older adults." Effect of physical activity on the production of specific antibody in response to the 1998-99 influenza virus vaccine in older adults. 2003[3]
"moderate exercise, performed in the initial days after influenza infection, significantly decreased mortality" Moderate exercise protects mice from death due to influenza virus. 2005[4]
We are committed to help our clients achieve their fitness goals even from home and have been training our clients via video with great results! Now, we know that a lot of people think that training from home doesn't work or is just too complicated to do. Well let us debunk the most beliefs of objections we've heard so far.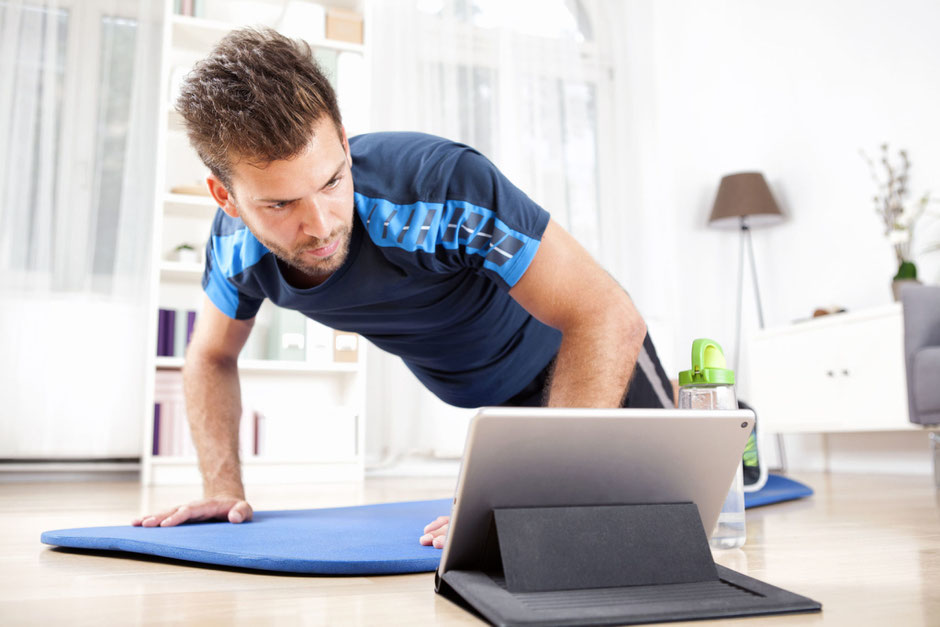 I don't have any equipment
Well first off, you have a body, and that's already enough weight to have a great workout. Just do 10 push ups right now and tell me if that doesn't feel like a workout. Too easy? Can you do a single leg squat? There are a plethora of bodyweight exercises we can use to build a great workout that will have you sweating in minutes!
This month can also be a great opportunity to focus on types of exercises different from what you normally do. If you are a runner or triathlete, it's a great time to focus on corrective exercise to fix muscles imbalances and aches and pains created by your sport of choice. You will come back to your sport better and stronger and less prone to future injuries. 
This lockdown is also a good time to work on your flexibility or mobility. Corrective exercise, stretching and mobility routines require absolutely no equipment and can be done anywhere.  
Finally, to help our clients who don't have any equipment, we also delivered dumbbells and resistance bands to our clients' houses to help them keep their regular training routine.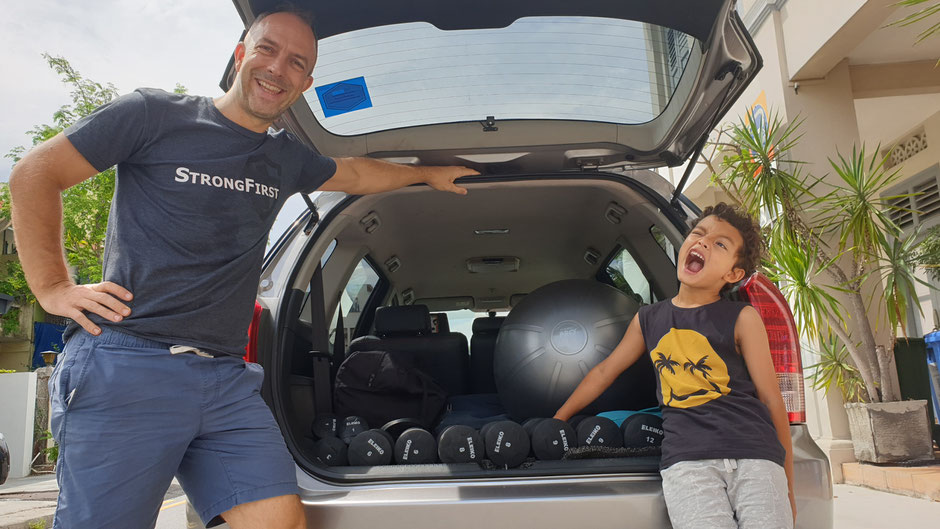 I don't have any space
Most strength training exercises, whether in the gym or somewhere else are usually done either in a standing or sitting position or on the floor, on your stomach or on your back. So if you can lie down, sit or stand somewhere in your apartment, then you have enough space to workout!
Another option is to look at the space you can find on the first floor of your condo or HDB flat. Once again, you just need enough space to stand or lie down.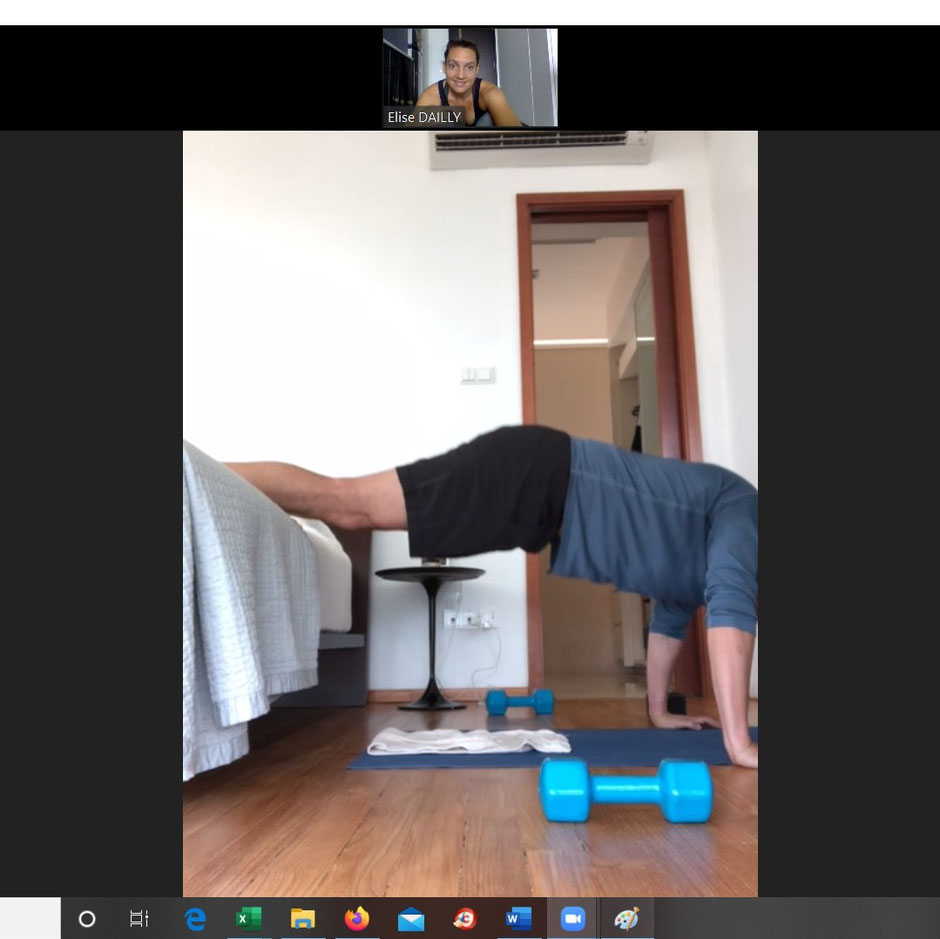 It's not effective or intense enough
Changing the training variables such as the tempo of the exercises and the rest time will make the workouts as intense if not more and will get your heart rate up in seconds. All our clients who have done slow single leg squats know what I'm talking about! Increasing the tempo and decreasing the rest period will push the exercise into the hypertrophy muscle building zone which is not necessarily a bad thing if you're sitting on the couch eating too many calories for the rest of the day! Better that those extra calories build lean muscle rather than fat!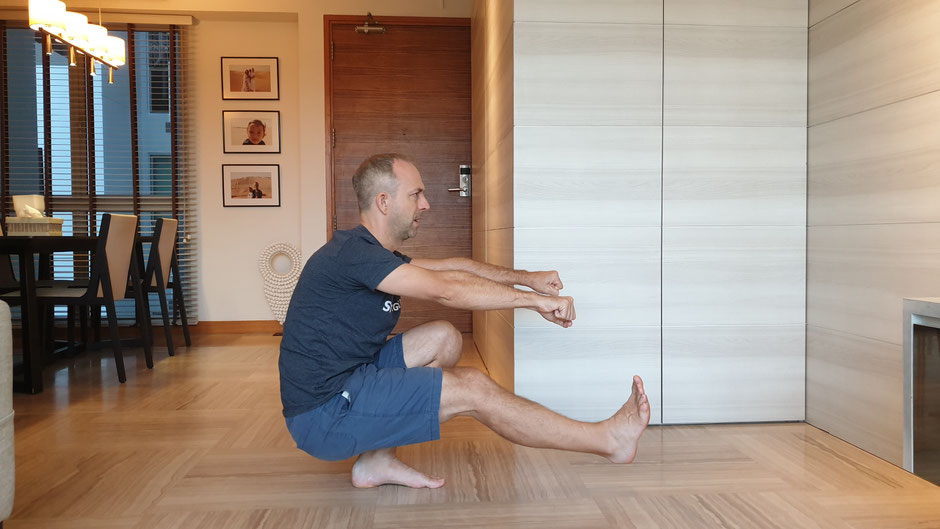 I don't have enough time
Between working from home and taking care of the children all day, it's easy to feel overwhelmed and you might find it tricky to find an hour just for yourself without being disturbed. However considering most people don't have to commute to work anymore, bring the children to school, and that social gatherings are now limited to people you live with, that leaves us with a little bit more free time. Also most people working from home now have a more flexible schedule and it should be easier to find some time to squeeze in a workout between conference calls.
And if you really can't find a full hour to train, don't panic, 30 minutes are more than enough to get an intense full body workout! In the end, it's not just about finding the time, but making the time. If you're motivated enough, you will find 30 min to an hour during the day to workout and remember you're doing in not just for your physical health but your mental sanity as well!
The kids get in the way
With the children at home all day, it can definitely get chaotic around the house, and it's not easy to isolate yourself in your own home. We've seen the little ones pop up on the screen several times during Zoom workouts with our clients this week !
In that case, why not involve them and have them join you during your workout? There are many great exercises that you can do with your children. It can be a great bonding experience, and they will burn some energy at the same time. Pretty useful when they start getting restless after staying indoors for too long! And then again, if you can not find one full hour to yourself, don't worry, a 30 minute workout can be as effective.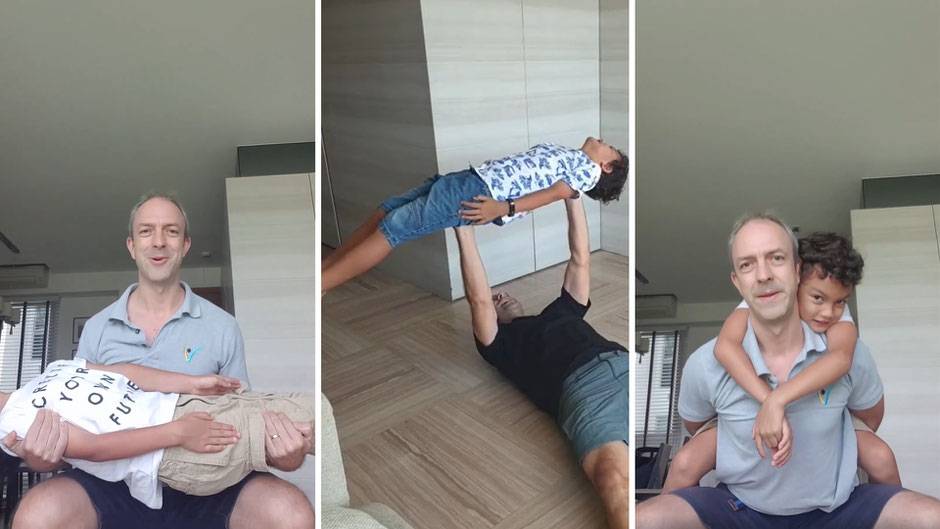 Check out these awesome testimonials from our video personal training sessions
After each training session we ask 3 questions:
(1) how was the intensity of your training?
(2) what can we do to make the remote coaching session better for you?
(3) what can we do to help you to make your day even better?
Check out our feedback from our first few sessions...
"She killed it, had a fantastic workout. And I asked if we can record the next few so I have some for my reference"
Dinusha, 37 - Engineer, Investment Bank
"It went really well. Thanks again for lending me the equipment."
Vincent Chew, 50 - Investment Manager
"it is very good...this is workable for now given the Covid situation but also good for when we are unable to attend training physically, we can do this via Zoom instead too. I was sweating a lot and today and I'm already experiencing some muscle aches, which wouldn't happen if I was doing my own training."
Alice Lee, 40 - Compliance Specialist
Wrapping up...
Ultimately it's easy to find excuses not to exercise but we all know, deep down inside, that we're just cheating ourselves. During these difficult times finding different ways to move your body is essential for your physical health and your mental sanity and exercising from home can be just as effective, indeed, more effective than in the gym. Particularly if you combine exercise with bonding time with the kids, or spend more time fixing imbalances and corrective exercise or even decreasing the time and increasing the frequency and regularity of sessions. If you are struggling with the motivation to get started then don't spend time thinking about what you don't want (the negative) but concentrate on what you want to be and use that to motivate you. And ultimately you don't have to do this alone - there are people available to help you.