7 of us decided to attack Christina Ong's latest venture, COMO Cuisine, this Sunday and it turned out to be a great choice. As the brains behind COMO Shambala, SuperNature and the COMO hotels in the region we were expecting good things from this Singapore tycoon who has one foot firmly planted in the health and wellness field.
The décor is light, airy and very welcoming with plenty of space which worked perfectly for us considering the crappy weather outside.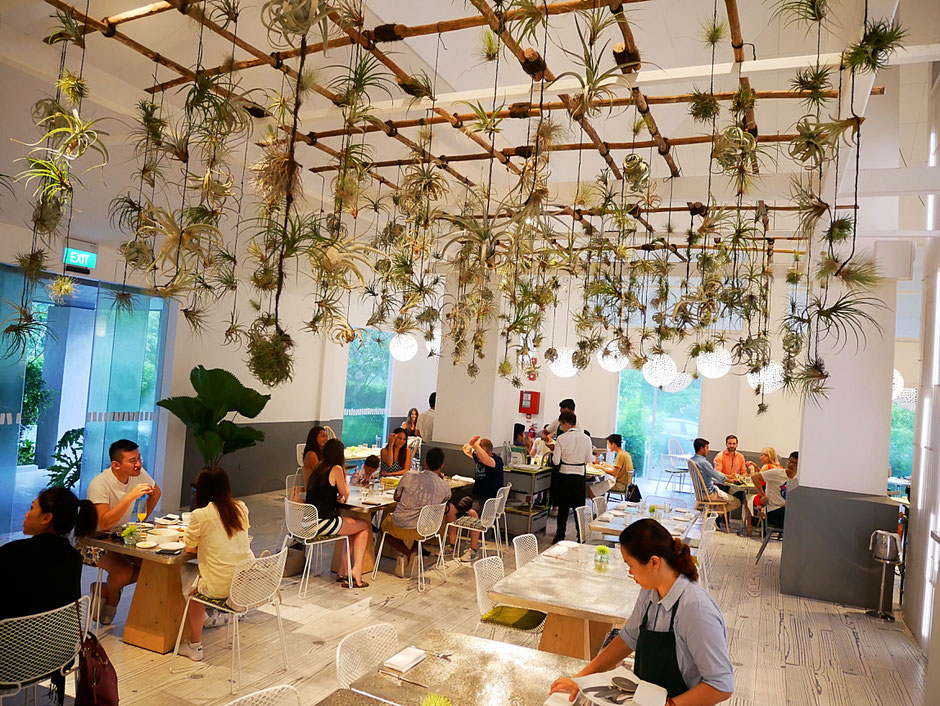 The first thing I noticed on the menu was that nothing was mentioned as organic so I called the waiter over and he pointed out several dishes that he said were organic. That's unusual because normally a restaurant will say its either ALL organic or mention individual menu items that are organic. One should always assume if it is not mentioned at all then, none of it is organic. Decent organic food does cost a lot more in Singapore so, not mentioning it on the menu is just suspicious in my book. Maybe one doesn't like to blow ones own trumpet! So apparently one of the starters, all of the salads and the risotto were organic thus, we had a go at some of them. I suspect that not all of the ingredients were organic so if you're very strict about this then, you'll really need to quiz them thoroughly - I was too busy my glass of wine and catching up with friends so will have to do that another day!
They had a handful of organic wines on the menu all between 100 and 200 bucks. We tried a rare orange wine from Sicily that was surprisingly dry, citrusy with a slightly bitter aftertaste. It was interesting and very palatable once you got your head around it and whilst it wasn't a winner with all of us, it is refreshing to see small organic boutique vineyards appearing on more menus in Singapore. It certainly makes a lovely change from the usual unimaginatively consumed wines such as Cloudy Bay (yawn). We also had a bottle of the house COMO Estate Shiraz from Margaret river which was fine if nothing remarkable. This, however, was not organic which surprised me considering how much the COMO group prides itself on health and wellness.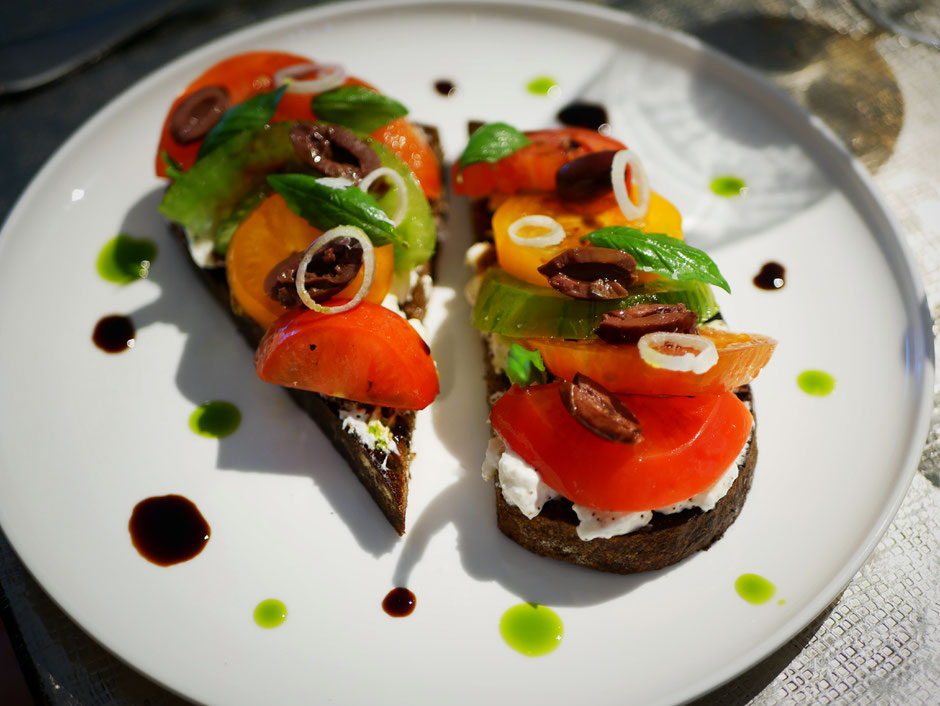 The food was superb and I think they did a great job at plating and presentation, portion sizes and of course taste. We had the garden vegetable crudités, gypsy salad, big raw salad, garden prawns and samosas for starters and then, pearl barley risotto, snapper (wild caught) curry and ocean trout (wild caught) for main. The gypsy salad worked really well with an unusual combination of fruits such as watermelon and grapes paired with palm hearts, tomatoes and olives. It doesn't sound like it would work but it did! The snapper curry was very good and still reasonably light compared with something you might get down Little India. Three of us had the ocean trout which was juicy, flavourful with a nice crispy skin and worked very well with the smoked eggplant. The desserts looked amazing but I thought they were the weakest link from a taste standpoint, the cheese cake "cheese" was more like a mousse than a rich creamy cheese layer and the topping was jelly. Considering how common cheesecake is in just about every café in Singapore I think they need to work much harder in this department. However the chocolate avocado mousse was much better with great combination of flavours including calamansi and jaggery ice cream.
Wrapping Up
Whilst none of us had any meat for our main courses I did ask the staff and they said that all the beef, chicken and lamb were hormone and antibiotic free and free range. I will follow up later to confirm that exactly as often this information can be quite confused. The golden rule is if in doubt ask the chef and if he doesn't know then it isn't.
All in all for a mid priced restaurant in Singapore I think they are doing an excellent job. There are so many sub standard restaurants here that its really worth noting the gems, like COMO Cuisine, and revisiting them rather than taking pot luck on one of the other 8000 restaurants in Singapore (according to TripAdvisor). Whilst I was a little disappointed with the lack of information on what food was organic or not at least the food was damn tasty!
Keen to read more of our exclusive reviews? Click here.
Spoons achieved
✓ From scratch
Serves mostly (i.e., more than half of the menu) fresh food, prepared from scratch.
✓ Local/Organic
Offers at least some locally sourced and/or organically produced food and/or wild-caught seafood.
✓ Pastured
Offers at least some pastured animal foods.
✘ Organs
Offers some dishes made with organ meats.
✓ Cooking Fats
Cooks (sautés) in natural fats.
✘ Bone Broth
Makes own bone broths/stocks for use in soups, stews, gravies, and sauces.
✓ Seasonings
Makes own seasoning mixes. 
✓ Salad Oils
Makes own salad dressings using olive oil or cold-pressed sesame oil.
✓ Breads
Offers genuine sourdough bread.
✘ Beverages
Offers lacto-fermented beverages. 
✘ Condiments
Offers lacto-fermented food.
✓ Desserts
Offers desserts made in house with natural sweeteners.
Total no. of spoons achieved: 8 out of 12 spoons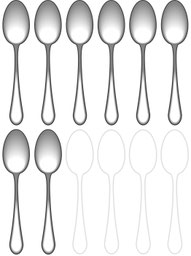 Pros
Great menu
Fantastic Food
Good price considering the quality
Cons
Needs more transparency over what's organic or not
Wine list could be improved
Do you have any other restaurants you would like us to review? Drop us an e-mail at info@levitise.com.sg, we would love to hear from you.
COMO Cuisine contact details
Email
Address, telephone number and opening hours
18A Dempsey Rd
Singapore 249677
1800 304 6688
Monday to Friday (12 to 3pm, 6pm to 10.30pm)
Saturday and Sunday (12pm to 10.30pm)
Love it? Share it...