For most of the past century, getting stronger and faster was all about training hard but now, many people are understanding the importance of rest and recovery. Hence, there has been a strong focus on recovery and for the right reasons. 
Your body and muscles do not get stronger or bigger during training sessions but rather, during the time in between the workouts. The muscles damaged during the workout repair, rebuild and strengthen when you rest. 
Some of the essential elements of recovery are sleep, nutrition, hydration and stretching. In addition, there are some tools that can help you speed up this process so as to optimise the rate of your recovery - one of them being the infrared sauna. 
We've previously looked at the effects of infrared saunas on chronic fatigue and weight loss. This week, we're looking at the benefits of infrared saunas for muscles soreness and recovery. 
So, can sitting in an infrared sauna really help?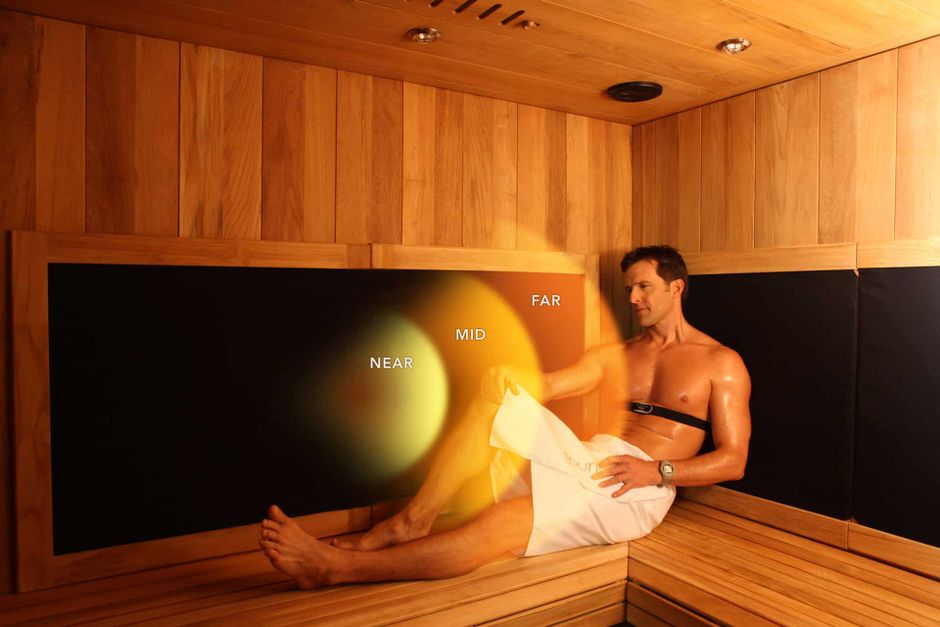 The research
Study 1
The first study1 looked at the effects on infrared sauna bathing on recovery from strength and endurance training sessions. 
They took 10 healthy physically active men and asked them to sit in an infrared sauna for 30 minutes following either a 60 minute of strength training or 30 to 40 minute endurance training session. They then tested their performance on bench presses, leg presses, jumps and oxygen uptake during a run on a treadmill. 
The researchers concluded that "deep penetration of infrared heat (approximately 3-4 cm into fat tissue and neuromuscular system) with mild temperature (35-50°C), and light humidity (25-35%) during FIRS bathing appears favourable for the neuromuscular system to recover from maximal endurance performance."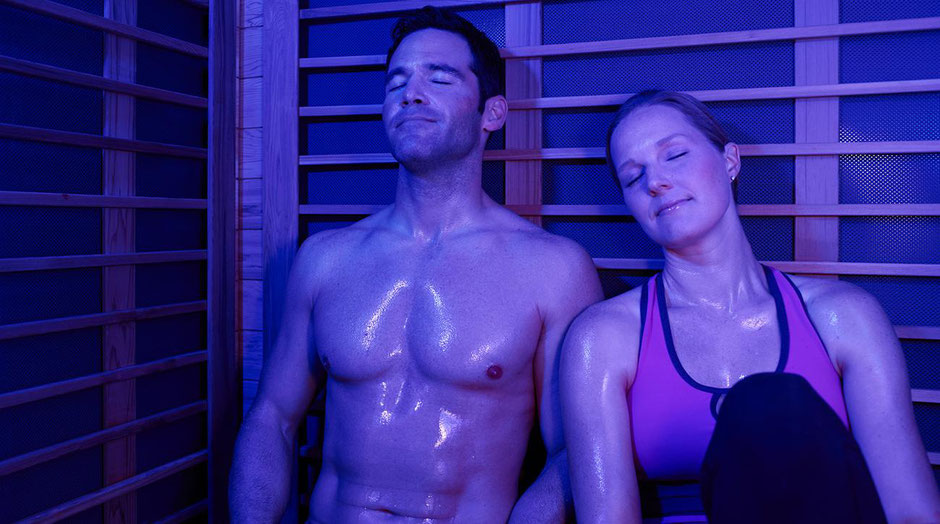 Study 2
Two other studies looked at the effect of heat and sauna on the endocrine system and growth hormone secretion. Here is what one study found2: 
"The sauna induces changes in the secretion of hormones, some similar to changes induced in any other stress situation and others characteristic of exposure to the sauna. […] The concentrations of the growth hormone and prolactin, in particular, secreted from the anterior pituitary are increased in the circulation." 
In the second study3 they found that heat exposure of 15 minutes in a sauna at a temperature of 72 C, led to an increase in growth hormones levels from 2 to 5 micrograms/L. 
Growth hormones are essential for healing muscle soreness and boosting muscle recovery, since it plays an important role in muscle growth, cell repair and metabolism. 
Other benefits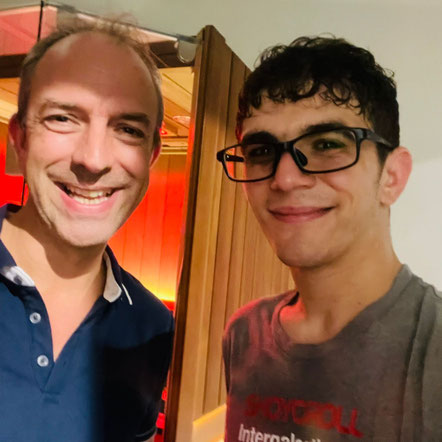 Infrared sauna has a lot of other benefits that help with muscle recovery. The deep heat of an infrared sauna helps the blood vessels dilate which in turn, boosts blood circulation. This then facilitates the removal of metabolic waste from the muscles (lactic acid) and increases the delivery of nutrients and oxygen to the muscles helping to repair damaged muscles and tissues. The removal of lactic acid buildup also helps the muscles relax and loosen up. Overtime, the infrared heat also helps reduce soreness on nerve endings and muscle spasms as muscle joints and fibers are heated.
Wrapping up...
Now is sitting in an infrared sauna alone the magic solution for perfect recovery? Definitely not, but combined with the essential elements of recovery and it will do wonders. 
Indeed, proper nutrition adapted to your individual needs will help replenish muscle and liver glycogen and will support cell repair and muscle growth. Furthermore, making sure that you get enough sleep and good quality sleep is essential to make sure your body repairs the muscles and connective tissues damaged during training. It is also crucial to have stretching routine in place that is specifically designed for your body and adapted to the sport you practice as it will help with blood flow, soreness and muscle repair. 
To your health, happiness and longevity,
The Levitise Team
P.S. If you love this blog post then do check out our fortnightly newsletter where you'll get the freshest content on health, nutrition and fitness delivered straight to your inbox. Don't miss out and sign up here with just your name and email. 
Love it? Share it...