In part 1 and part 2 of this guide we covered the toxins in Singapore's water supply and whether these are significant enough to cause detrimental damage to your health. If you concluded that they do then part 3 is the definitive guide for you on exactly how to reduce your exposure and optimise your health from your choice of drinking water or water filter.
The perfect water source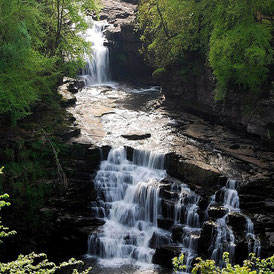 For hundreds of thousands of years we drank water from natural aquifers, mountains streams and springs. Before the industrial age the world was largely free of toxins and unpolluted so these natural water sources would have provided us with water that was both full of essential minerals (such as magnesium, potassium, calcium and phosphorus), structured and with a natural pH of around 7.0. It may have contained small amounts of bacteria and parasites but these would have likely provided us with hormetic doses that would have strengthened our immune systems. We're going to use this ancestral perspective to judge the following modern alternatives below using the four criteria of (1) Mineral Rich - how many beneficial minerals are dissolved in the water, (2) Natural pH - how much the water deviates from a natural pH of 7.0 in either direction, (3) Structured - how much the water resembles the structure of water occurring naturally in the environment and (4) Toxicity - how many harmful toxins are in the water.
Natural aquifers
If you go to www.findaspring.com then you'll find the best source of waters in the world. Many spa towns with famous healing locations are built around these natural springs where the water bubbles up from rocks deep underground and comes infused with an abundance of minerals. There isn't one in Singapore unfortunately.
Mineral Rich

P

P

P

Structured

P

P

P

Natural pH

P

P

P

Toxin Free

P

P
Mountain waters
If you live in the Himalayas and you know there isn't a chemical plant up stream or a small village that pipes it's sewage straight in then this would be the second best choice. Slightly less mineral rich than springs and possibly more toxins from the environment.
Mineral Rich

P

P

Structured

P

P

P

Natural pH

P

P

P

Toxin Free

P

P

 
 
 
  

Did you know?

Structured Water

Energised or structured water is water that has been activated to permanently hold a negative voltage. Water structuring occurs in nature when water is allowed to move in a natural flow of vortexes. Most wild rivers and springs produce structured water in the presence of sunlight energy and natural biological conditions. Rainwater is in an energised, negative voltage form before it hits the ground, air particles (eg, smog) or a surface. Some spring waters are also energised through contact with magnetic forces in the groundwater rock strata. Conventional science says that water is just H2O and can exist in 3 phases or states, ie. liquid, gas (water vapour) and solid (ice).  Recent science says that water can be in a fourth phase or state and it is H3O2.  This fourth phase is called the exclusion zone (EZ) because this water excludes things profoundly, including small molecules such as toxins. It's still a relatively new topic of study but the theory is that structured water is far more healthy for our bodies than unstructured water. For example in this study on mice, last year, they conclude, "These results strongly suggest that structured water helps the activities of normal cells while suppressing those of malignant cells." which is encouraging research.

  
 
 
 
A summary of water sources and filters available in Singapore
Obviously drinking water from mountain streams and natural aquifers in not really possible in Singapore where we're more likely to be presented with a bottle of warm Dasani from the local hawker centre guy. So what are our alternatives? We list them out here using the four criteria described above.
Mineral Water: Glass Bottles
Bottled water can come in 3 different types; mineral water, spring water and drinking water. Mineral water is generally from natural water sources and lakes such as Evian, Vittel and Volvic. It can come in glass or plastic bottles. You can tell how many minerals are in your bottled water by looking at the Total Dissolved Solids (TDS) on the back. The best quality mineral waters will always have a TDS of at least 300. A lot of fancy mineral water such as VOSS have a pathetically low TDS. Nice bottle, nice marketing but it's a gimmick as you'd need to drink 3 times as much in order to get the same amount of minerals as Evian and you might even find drinking that much washes minerals out of your body quicker than you can absorb them! Glass is inert and will have no negative impact on the quality of your water. With regards to structuring it is structured when it comes from the source but then can lose its structure whilst sitting in the bottle for months. Sticking it in the fridge for a few days or vortexing it can help. As a separate note sparkling water is often mineral water with CO2 added. This makes the water very acidic, the minerals less absorbable and can actually be dehydrating – its better than drinking coke but it's not really health promoting.
Mineral Rich

P

P

Structured

P

Natural pH

P

P

P

Toxin Free

P

P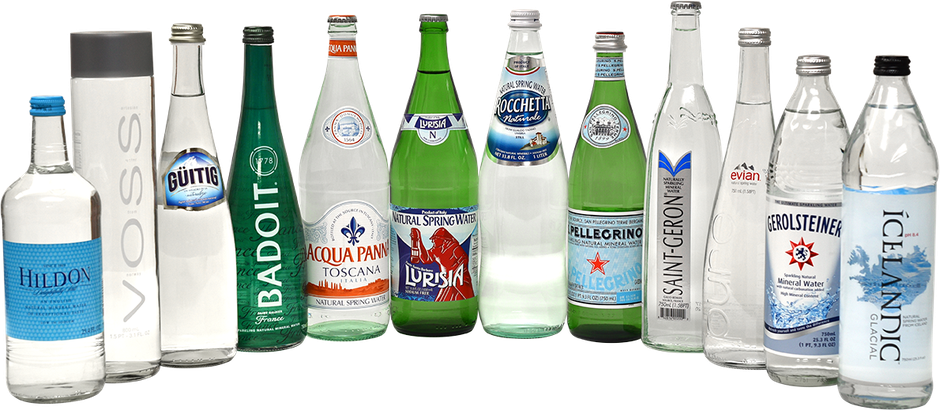 Spring Water: Glass Bottles
Bottled spring water should have the same benefits as mineral water it's just from a different source. They don't tend to be mass produced however and you don't see them much in the shops, however in spa towns, and those with a popular aquifer, you can often find the spring water bottled and sold locally.
Mineral Rich

P

P

P

Structured

P

Natural pH

P

P

P

Toxin Free

P

P
Mineral Water: Plastic Bottles
Mineral water kept in plastic bottles is a different story. Plastics leach parabens, phthalates, BPAs and BPSs into your drinking water. These toxic compounds have been shown to mimic estrogen and cause endocrine disruptions in both women and men. In reality for women think things like painful or irregular menstruation, fertility issues, stress and thyroid problems. In men think gynecomastia or man boobs! Bottles irradiated on ships, left in hot climates or left for a long time in the bottle are the worst offenders. If you must drink water from plastic bottles then use a brand that has a high turnover, like Evian, which is the 3rd most popular bottled water in Singapore. Also water from large plastic bottles, such as those used in dispensers should be better as there is less surface area coming in contact with the water - as long as they have not been left sitting around in Singapore's hot sun of course!
Mineral Rich

P

P

Structured

P

Natural pH

P

P

P

Toxin Free

O
Drinking Water
This is usually just bottled tap water and always sold in plastic bottles. Dasani is tap water from Malaysia that's bottle by Coca Cola and often labelled as "mineral water" at the hawker centre. It's also very acidic with a pH of 6.45 when we tested it with a pH pen. Added to that, it's stored in plastic, soI would put it right at the bottom of the list and worse than tap water. Ice Mountain is also bottled Malaysian tap water.
Mineral Rich

O

Structured

O

Natural pH

O

Toxin Free

O

O

O

Tap Water
Tap water is really one of the most toxic water sources because it has all the contaminants from our environment along with a bunch of others added to it. On the plus side, however, there are normally some minerals in it and the pH of Singapore's tap water is good at 7.2 to 7.4. Tap water also has some structure because it develops it as it flows through the pipes of a municipal water supply system. If it was toxic free I would think it's fine to drink. On the plus side it's better than cheap drinking waters, like those mentioned above.
Mineral Rich

P

Structured

P

Natural pH

P

P

P

Toxin Free

O

O
Reverse Osmosis (RO)
Reverse Osmosis is the king of removing toxins from your water. It forces the water through a tiny membrane under high pressure using an electric pump. This is the only filtration system that can remove almost all of the fluoride which is a very small particle (removing chlorine is relatively easily). The problem with RO is that it also removes all the minerals, completely un-structures the water and is very acidic. Why? Because pure H2O is very absorbent and when it comes out of your tap it reacts with the CO2 in the air and forms carbonic acid in the water normally ending up with a pH of about 5.85. That doesn't mean that the idea of a RO filter should be abandoned entirely as long as it's used properly...see below in our conclusions for the best way to incorporate RO water into your life should you wish.
Mineral Rich

O

O

O

Structured

O

O

O

Natural pH

O

O

O

Toxin Free

P

P

P

Alkaline Water
Alkaline water filters are pretty popular in Singapore. The idea being that our poor diets causes us to be too acidic in our bodies so we "hack" our water, to make it more alkaline to bring them back into balance. There are a couple of major problems here. The first being that we should be addressing the root causes of our acidity: namely too much sugar/grains and processed dead food in the diet. Secondly in order to alkalinise the water it is passed over titanium plates. This can introduce heavy metal toxicity into the water. The last thing to consider is that alkaline water is far more absorbable which would normally be great however but in this case if you are alkalinising your tap water using a counter top filter then you're going to be sucking those heavy metals, chlorine and fluoride straight into your organs at a faster rate than normal!
Mineral Rich

P

Structured

P

Natural pH

O

O

O

Toxin Free

O

O

O
Counter Top Filters
There are a whole range of Countertop Water Filters in Singapore and along with the large bottle dispensers they are pretty popular. And really each one would need to be analysed separately to see what kind of filtration systems it uses which would determine how to rank them. Some filter just the chlorine which is pretty easy to do but a good start. Some have sediment filters which are pretty pointless because there's very little in Singapore water. Some use UV filters that are awesome at removing bacteria but totally pointless because the government pumps chlorine into the water to do that job. Some have charcoal filters which we like – see below. And some even have special fluoride filters. You really need to do your research on all of this as the full range is from totally rubbish -> ok -> not bad. We have some research in the table below to give you an idea of how thorough we were when looking for these types of filter. In the end we didn't really like any of them but if you are doing your own research we highly recommend asking the supplier for evidence of whether their particular filter filters out the toxins that most concern you.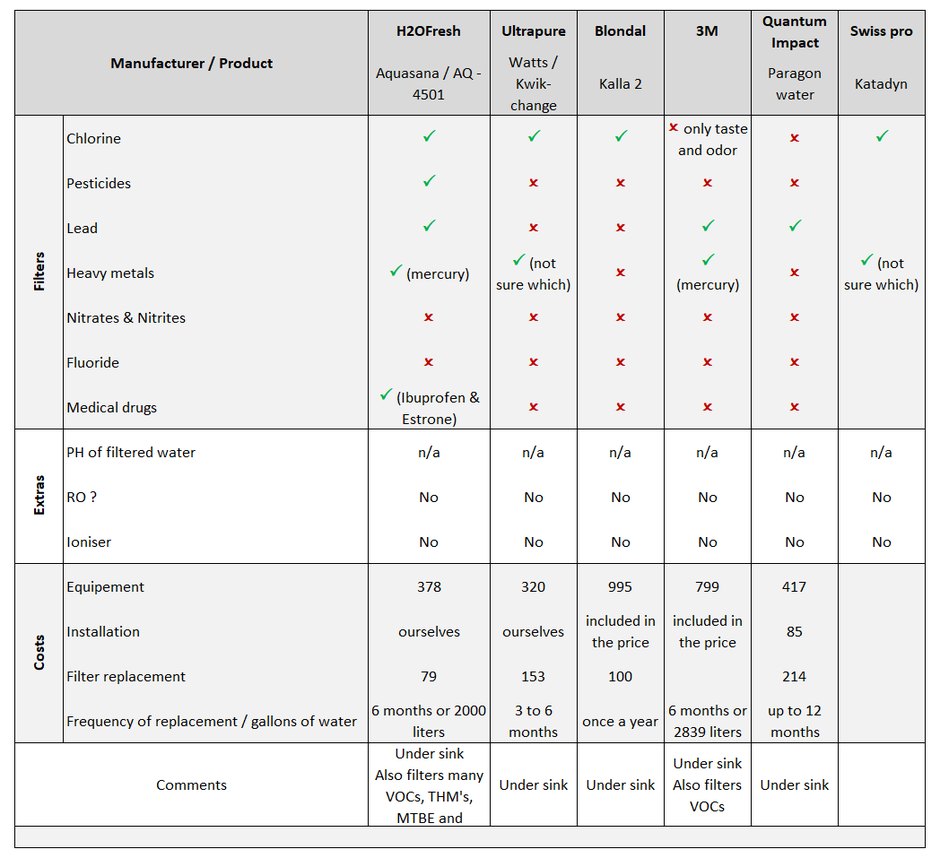 Whole house filters
Whole house filters are generally huge carbon blocks that pass all of the water that comes out of your taps through a massive carbon filter. Carbon, which is just burnt wood, is hugely absorbant and has a massive surface area. It is fantastic at absorbing toxins which is why if you poison yourself and go to the hospital they give you a bunch of charcoal tablets to swallow. It is great at filtering chlorine, not bad at heavy metals and just ok at filtering fluoride. The advantage with carbon is that, unlike RO, it doesn't filter out the beneficial minerals in the water or unstructure it. It's also totally natural so you are definitely not introducing new toxins into your water supply. You can also get carbon counter top filters. All carbon filters need to be replaced after a while. We like this one the best out of all the filtering mechanisms.
Mineral Rich

P

P

P

Structured

P

Natural pH

P

P

P

Toxin Free

P
The best solutions in Singapore for drinking water
So as you can see from our overview of different methods of drinking water there is no real perfect practical solution. What do we do?
Well we installed the Rhino 300 at the Levitise studio (see picture below) to filter out all of the water in the showers and the bathrooms. This is important because chlorine, when heated up in shower water, and mixed with organic compounds produces trihalomethanes which is incredibly toxic when inhaled and something you definitely want to avoid. A lot of the research into this area has been done on the effect trihalomethanes have on unborn fetuses so it has some serious scrutiny by medical researchers. Whilst this carbon filtered water is perfectly good for drinking we prefer glass bottled mineral water so we stock up on tons of that from RedMart.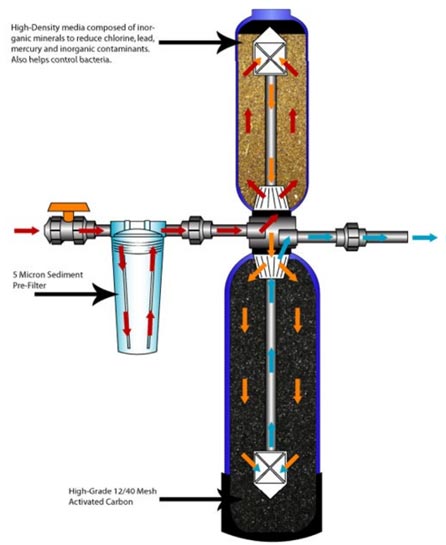 Another option is to use RO water and restructure and remineralise it. How do you do that? Well you first need to ensure that your RO water doesn't take on too much CO2 and form carbonic acid when it comes out of the RO faucet. So first you fill a quarter of a container with bottled mineral water and then ensure that you fill the rest of the container directly from the RO faucet. You then need to add minerals back in so you can use some trace minerals drops (bought from iherb) and/or a little celtic sea salt or himalayan rock salt (no this is not bad for your blood pressure: www.levitise.com.sg/high-blood-pressure-singapore). Then if you have a large container like a 3 litre ball mason jar you can "vortex" the water by stirring it for 2 minutes with a large spoon and then sticking it in the fridge overnight to structure it further. There are structured water filters on the market but they need to be imported from overseas and the science on them is very new. It might be worth exploring if you have a serious disease that needs managing however.
So there you have it. A concise, black and white answer, as clear as mud! Look we know it's not easy to strive for perfect health but what we feel is important to do here is to educate you as much as possible so that you can go out and make your own decisions about what's best for your and your families health. Do what you feel is the most comfortable and whatever you do don't stress about it!
Enjoy!
The Levitise Team
P.S. If you love this blog post then do check out our fortnightly newsletter where you'll get the freshest content on health, nutrition and fitness delivered straight to your inbox. Don't miss out and sign up here with just your name and email.