Welcome to part three of our six part series looking at moving meditations, or zonal exercise, that help people deal with various chronic ailments in their lives. If you missed the introduction and part one then please take a look at that first. In this article we're going to be using the modified Qi Gong Energy Push that is an all round super exercise but particularly good at helping with digestive problems, allergies and diabetes
Qi Gong Energy Push
The Qi Gong Energy Push is a zone three exercise that is effective in circulating energy throughout the whole body but particularly focuses on the pancreas, adrenals, digestive system, muscles of the body, liver and gall bladder. The Qi Gong Energy Push is great at helping with:
Stomach ulcers
Digestive problems
Chronic fatigue
Allergies
Diabetes
Mental issues such as oversensitive to criticism, a need to be in control and low self-esteem
How to perform a Qi Gong Energy Push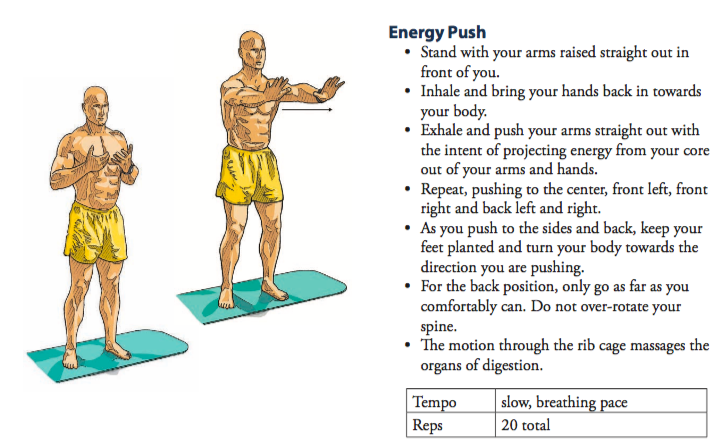 "The motion through the rib cage gently massages the organs of digestion"
Tips for the Qi Gong Energy Push
So as with all zonal exercise let the speed and range of the movement be dictated by the length of your inhalation and exhalation. If you find your shoulders fatiguing a bit during the exercise then try to lower and relax them, or you could reduce the range of how far you "push" your hands out. Also, when you push out to the left and the right don't overly twist your body so that you overly exert torsion on the spine.
At 6pm every day the Levitise team head down to our pool at the SBF Centre to perform a couple of zonal exercises. This is a super way to unwind any tightness that might have built up during the day and to relax the mind before going home. This week we did the Qi Gong Energy Push and the Wood Chop (another variant Qi Gong exercise) and apart from a few strange looks we really enjoyed them and felt super relaxed, calm and stress free afterwards. Check us out in the picture below.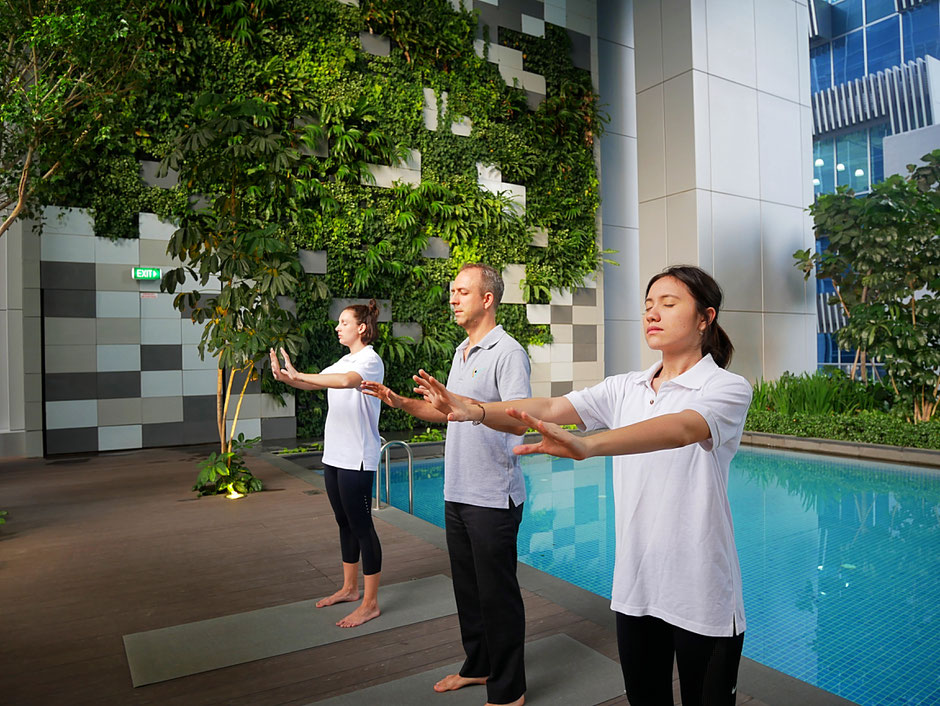 Wrapping up
So, that is it for part three in this six part series and the Qi Gong Energy Push which is great for helping you with digestive problems, allergies and diabetes. Next week we'll be taking a look at zone four which mostly covers the upper torso and the heart, lungs, circulation and breathing. If you like this series then please sign up for our newsletter here to get the next three delivered right to your inbox.
To your health, happiness and longevity,
The Levitise Team
P.S. If you love this blog post then do check out our fortnightly newsletter where you'll get the freshest content on health, nutrition and fitness delivered straight to your inbox. Don't miss out and sign up here with just your name and email. 
Love it? Share it...