Welcome to part four of our six part series looking at moving meditations, or zonal exercises, that help people deal with various chronic ailments in their lives. If you missed the introduction and part one then please take a look at that first. In this article we're going to be reviewing ways to help with more serious issues like high blood pressure, cardiovascular diseases and cancer. Performing very light meditative movements that bring blood flow to the organs located in the upper torso can be very beneficial to help with these ailments.
The Fish
The Fish is a Zone four exercise that is effective in circulating energy particularly throughout the upper torso by opening up the chest in extension. In particular it focuses on the heart, thymus, lungs and the pericardium. The Fish is great at helping with:
Shallow breathing
High blood pressure
Heart disease
Cancer
Mental issues such as fears about betrayal, co-dependence and melancholy
How to perform The Fish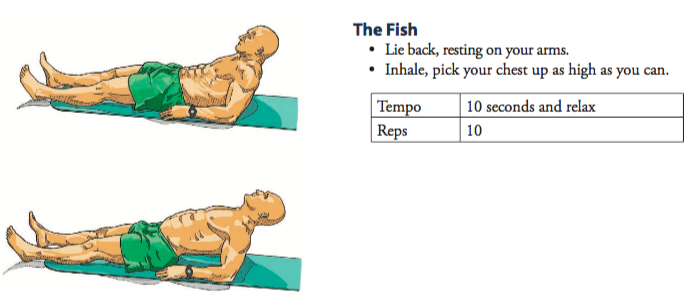 "Open up the chest without stressing other areas of the body."
Tips for performing The Fish
At the top of The Fish, it is important to retain a relaxed breathing pace. Also, the weight of your torso should be supported by your arms and you should have your head and neck in a position that is the most comfortable and definitely not hanging back looking behind you. Everyone is unique so its difficult to give specific advice but think about the concept of the exercise to open up the chest without stressing any other areas of the body. Again the pace should be relaxed with a 10 second hold in The Fish position maintaining constant breathing throughout, then down and relax and then up again. Building up to 5 minutes a day and even up to 20 mins would be the most beneficial.
Wrapping up
That wraps up part four of our series on zonal exercises or moving meditations. The Fish is a great chest opening exercise to help bring blood flow to organs in the upper torso to help with high blood pressure, cardiovascular diseases and cancer. Next week, we'll be taking a look at zone five which mostly covers the neck, mouth and throat. If you like this series then, please sign up for our newsletter here to get the next two delivered right to your inbox.
To your health, happiness and longevity,
The Levitise Team
P.S. If you love this blog post then do check out our fortnightly newsletter where you'll get the freshest content on health, nutrition and fitness delivered straight to your inbox. Don't miss out and sign up here with just your name and email. 
Love it? Share it...