Welcome to part five of our six part series looking at moving meditations, or zonal exercises, that help people deal with various chronic ailments in their lives. In this article, we're going to be introducing the zonal exercise, Thoracic Mobilisation, what it is, how to perform it and it's benefits.
Thoracic Mobilisation
Thoracic Mobilisation is a zone five exercise that is great at sending vital nutrients to the lower neck, thyroid glands, arms and shoulders and as a result, helping with issues such as:
Hyperthyroid
Hypothyroid
Asthma
Neck pain
Tinnitus 
Sore throat
Perfectionism
Blocked creativity 
Inability to express emotions
How to perform Thoracic Mobilisation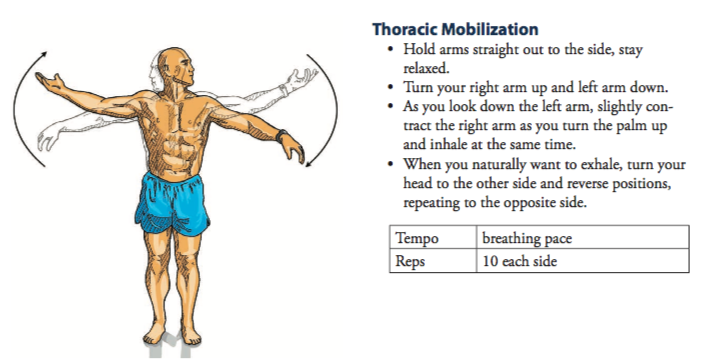 Tips for performing Thoracic Mobilisation
Here are some tips to performing the Thoracic Mobilisation exercise that we highly suggest you take into consideration to prevent injury or pain: 
Always look at the palm that is facing down
Do not round your shoulders forward instead, keep your chest up
Try and keep the arms at shoulder level (in the beginning it may be hard to do this but in time, you will build endurance and get better at it)
Do not tense or elevate your shoulders but rather, relax them
Wrapping up
That is all for now. We hope you enjoyed learning more about the Thoracic Mobilisation zonal exercise. This is a fantastic exercise to bring fresh oxygen and nutrients to thyroid, lower neck, arms and shoulders and thus, helping with health concerns such as, hyperthyroid, hypothyroid, asthma and lower neck pain. Next week, we'll be taking a look at zone 6 which covers the upper neck, face and head. If you like this series then please sign up for our newsletter here to get the final exercise delivered right to your inbox next week.
To your health, happiness and longevity,
The Levitise Team
P.S. If you love this blog post then do check out our fortnightly newsletter where you'll get the freshest content on health, nutrition and fitness delivered straight to your inbox. Don't miss out and sign up here with just your name and email. 
Love it? Share it...