Verde Kitchen is a two month old restaurant nestled on the second floor of the Hilton hotel occupying the space that was previously Glow Juice Bar & Café - an organic juice and salad bar. Hilton has continued with the organic and sustainable theme for Verde Kitchen and has also added some more hearty main courses to the menu including organic grass-fed steaks, wild caught Glacier Toothfish and sustainably farmed salmon.
About 30% of the vegetables are organic which is a good start. They use several suppliers including many local ones such as Quan Fa Organic Farm, Sky Greens (vertical garden), a mushroom farm in Kranji and cherry tomatoes from a tomato farm in Sembawang. Many of these local farms are featured in our Singapore healthy shopping food guide. Hilton also have some greens from their own recently installed vertical garden which we had a look at after lunch. More on that below.
Grilling the chef
First up we got the chef out for our usual grilling (the verbal kind!). Here are the kind of questions we like to throw at them off the bat, which local farms to you get your produce from? What are the names of the farms? Which produce are 100% organic? What % of your menu is organic? Which brand of chicken do you use? Which brand of eggs? Is your grass-fed beef 100% grass-fed or grass-fed and grain finished? What's the name of the farm you get it from? How long do you ferment your sourdough? Etc. etc.
The reason we ask all these difficult questions is so you don't have to and can trust in our reviews that we've done the heavy lifting for you. We don't write up every restaurant we visit and in fact we have been to several between this and the last review we did of Bincho Yakitori. But because they didn't make the grade we didn't write them up.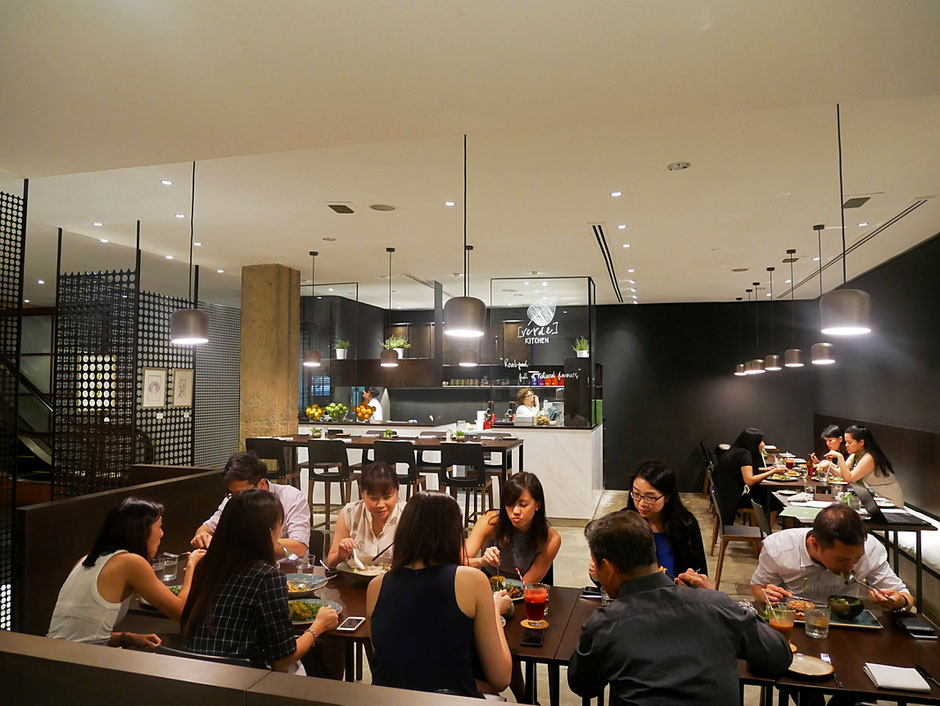 Starter and Super Food Organic Spinach & Quinoa Salad
So, we started off with a large salad to share with organic spinach, quinoa, green apple, pumpkin seeds, pomegranate, extra virgin olive oil and red wine vinaigrette. On the side was a few slices of gluten free olive bread with a pesto sauce. The bread was better than most gluten free breads and actually not too bad. That's saying something because most gluten free breads are just horrible. The pesto was fantastic with extra virgin olive oil, garlic, lemon juice and basil.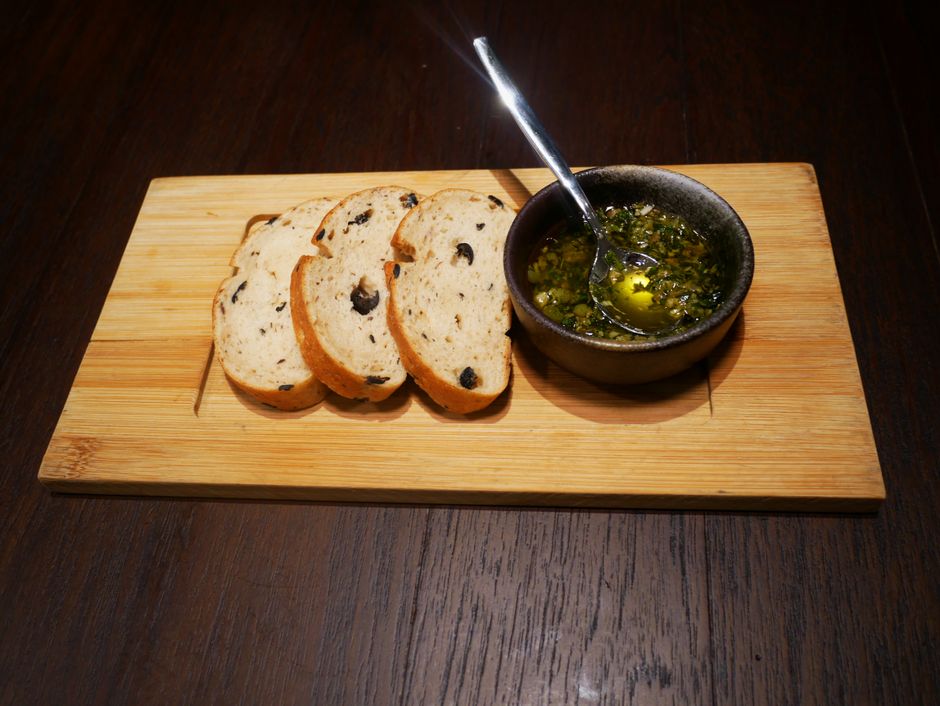 The salad was superb and all the ingredients complemented each other really well. You could taste everything individually and all the produce had a very "real" and natural taste. The dressing was not too overpowering (not too dry and too oily that can often be the case) with just the right amount of extra virgin olive oil and red wine vinaigrette. The green apple worked very well with the spinach. The only slight negativity is that this salad has a bit of an identity crisis in terms of where it should be placed in your dining order. It is too large for a starter but not quite big enough to survive on its own as a main course. No matter order one and you won't be disappointed.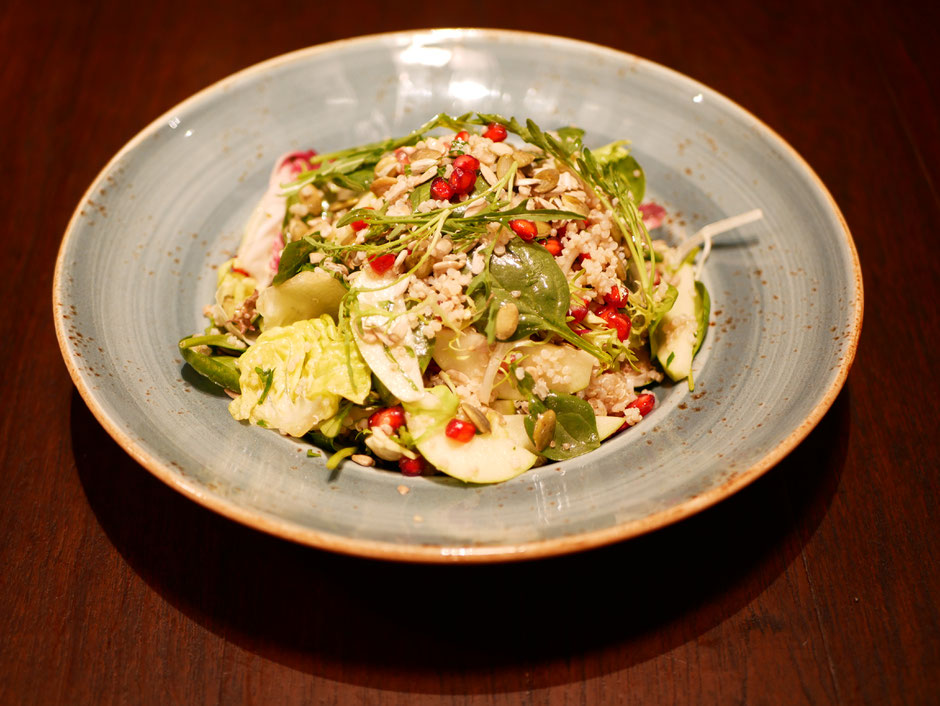 Organic Basil-crusted Glacier 51 Tooth Fish
Wow how good was this! It was really fantastic. The flesh was really soft and melts in your mouth immediately, it had a really nice crunchy herb crusting that total complemented the softness of the fish. You don't even need to chew it! Wild caught, sustainable and a high Omega 3 fat content. It doesn't get much healthier than this. You can read more about this type of fish here but in a nut shell its a type of sea bass found in glacial waters 4000 km south of Australia. The accompanying mushrooms and potato with a thyme gravy were also extremely tasty. The chef says these are some of the best mushrooms you can get in Singapore and the fact they're local and competing against all the European and Japanese imports is great. They really were very good.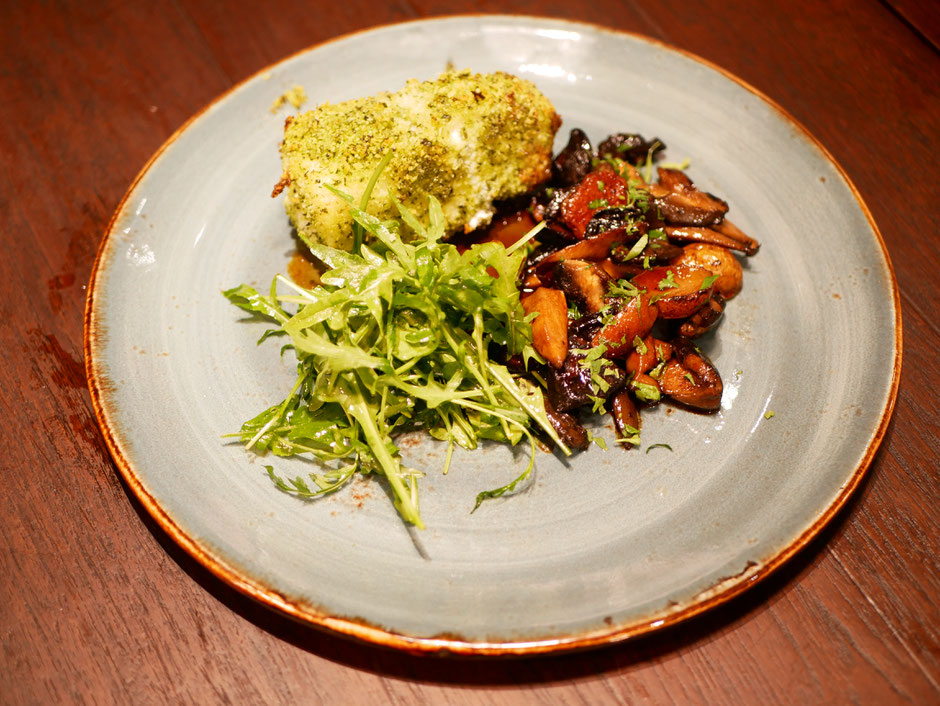 "The Glacier 51 Toothfish projected waygu like characteristics with a complex, yet delicate mouth feel that coated the palate appealingly, making it a delight to eat."
Organic Grass-fed Steak
This was a good portion of medium rare sirloin accompanied by sweet potatoes, carrots and fennel. It was quite a mild flavour for grass fed beef but definitely had the firm "bite" that differentiates it from an inferior grain fed offering. This would be a perfect steak for those that are new to eating grass fed animals who may complain that they taste too "cowy" or are too chewy! 3 thumbs up from us.
The sweet potato with cinnamon was a great combination that we'd never tried before. It could have worked equally well as a dessert as well as an accompaniment to a main savoury item. The spicy paprika fennel and roasted cauliflower were also really super. The fennel was well cooked and tender and the roasted cauliflower was delicious and crunchy.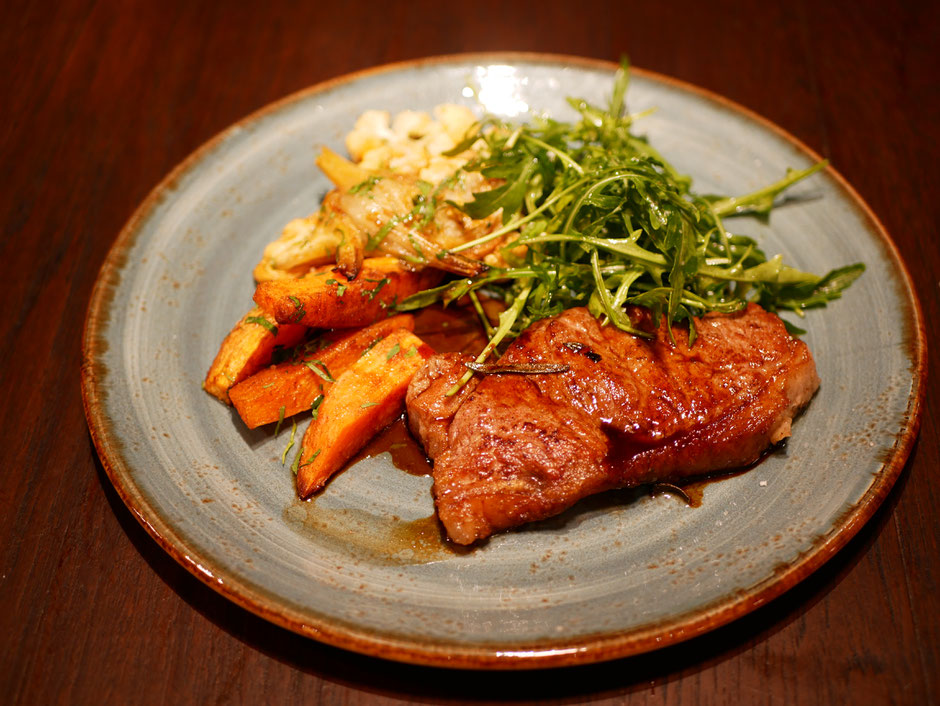 Malay Style Organic Lacto Chicken Curry
Last on our list was a chicken curry accompanied by brown rice and ladies fingers (okra). The turmeric curry was nice and spicy. It wasn't as thick as a curry from India and more like the consistency of a Singapore laksa in terms of wateriness. The brown rice was tasty but, unfortunately, unactivated which is not surprising considering few people are aware of the problems of phytic acid/lectins and other natural toxins in grains. Historically our ancestors would always soak their rice for at least for 12 hours in order to reduce the harmful natural toxins and make the nutrients more bioavailable to us. But again at least their heart is in the right place and with a gentle nudge (from the Levitise team!) maybe they can be encouraged to take a few steps in the right direction.
The lacto chicken is the Keesong chicken which is the same "organic" chicken we reviewed at Mahota. It was more tasty than the Mahota chicken presumably because the chicken had more time to soak up the curry sauce and develop more flavour. You can read more about Singapore chicken here. The potatoes were great and obviously had spent some time getting to know the curry intimately. The ladies fingers (okra) were pretty good considering they can often be too slimy for many people.
Wrapping up
So we really enjoyed our visit to the Hilton. All 4 dishes were great with the Toothfish definitely the outstanding one. They are doing a wonderful job in aiming for the triptych of perfect dining in Singapore which is (1) providing healthy food (2) local and/or sustainable (3) and damn tasty. Highly recommended. Finally, Chef Vijayakant Shanmugam was very patient in taking all of our questions and he even showed us around the Hilton's vertical garden behind their steak restaurant. Thanks Chef!
Spoons achieved
✓ From scratch
Serves mostly (i.e., more than half of the menu) fresh food, prepared from scratch.
✓ Local/Organic
Offers at least some locally sourced and/or organically produced food and/or wild-caught seafood.
✓ Pastured
Offers at least some pastured animal foods.
✘ Organs
Offers some dishes made with organ meats.
✓ Cooking Fats
Cooks (sautés) in natural fats.
✓ Bone Broth
Makes own bone broths/stocks for use in soups, stews, gravies, and sauces.
✓ Seasonings
Makes own seasoning mixes. 
✓ Salad Oils
Makes own salad dressings using olive oil or cold-pressed sesame oil.
✓ Breads
Offers genuine sourdough bread.
✓ Beverages
Offers lacto-fermented beverages. 
✘ Condiments
Offers lacto-fermented foods.
✓ Desserts
Offers desserts made in house with natural sweeteners.
Total no. of spoons achieved: 10 out of 12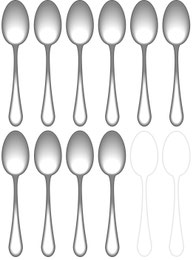 Pros
Superior quality fish and meat available (Organic grass-fed beef, organic chicken and Marine Stewardship council  certified wild caught fish)
Uses locally sourced ingredients
Gluten-free, dairy-free, vegetarian and raw food options
Cons
Possibly a bit on the pricey side if you are looking for a quick bite at lunch
Still use table salt and white sugar in some of their dishes
Not 100% organic
Did you like this review? Sign up now for our newsletter, The Executive Health Journal, and get Singapore's best healthy restaurant reviews and healthy lifestyle tips delivered right to your inbox.
Verde Kitchen email and contact details
Email
Website
www.singapore.hilton.com/verdekitchen 
Address and opening hours
Hilton Hotel, 581 Orchard Road Level 2, Singapore 238883
+65 6730 3397
Monday to Saturday (10.30am to 5.30pm)
*Closed on Sundays 
Love it? Share it...