Levitise is pleased to be launching a second Full Spectrum Infrared Sauna at the new Core Collective at the recently renovated i12 Katong Mall. The 7000 sq ft space will house medical doctors, allied healthcare professionals, personal trainers and top wellness practitioners creating synergies between them and Levitise's detoxification and healing sauna programmes.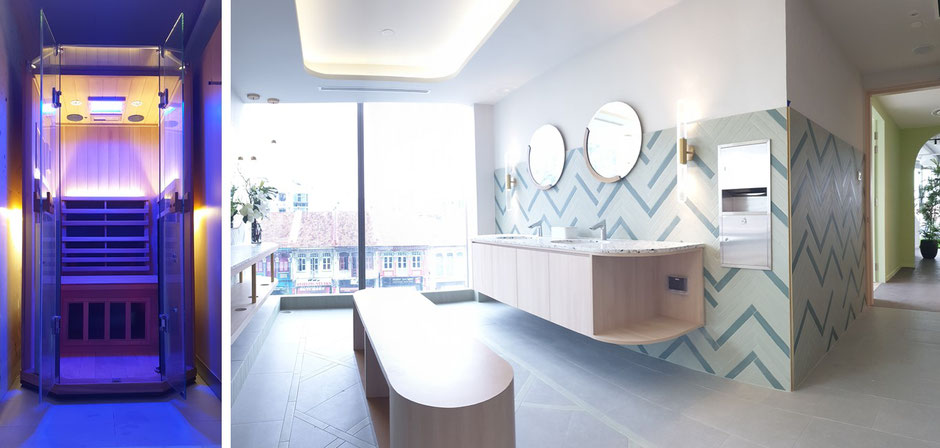 Singapore, 10 March 2022 -- Since 2017 Levitise has been helping senior executives in the CBD with poor sleep, chronic fatigue, stress, anxiety, pain and stiffness. With a combination of Holistic Lifestyle Coaching, Corrective Exercise Personal Training and a Full Spectrum Infrared Sauna Levitise has become the one-stop-shop health solution for C level executives in their 40s and 50s who are looking to get back in shape, mentally and physically, and with permanent results.
Levitise's Full Spectrum Infrared Sauna has been a part of this process and has produced nothing short of stunning results surpassing the benefits of many other strategies. Full Spectrum Infrared Saunas have scientifically proven to help boost energy levels, increase happiness, detoxify the body, alleviate pain, enhance performance recovery, improve cardiovascular fitness, balance hormones and even melt stubborn cellulite.
"We're super happy to be teaming up with Core Collective for this new venture. The location is superb. The facility looks amazing. And there promises to be a whole bunch of health and wellness services under one roof in this trendy Katong district. We were thrilled when Core Collective reached out to us to be a part of it and we're delighted to be able to now help people living and working in the East as well." shares Alexander Mearns, Health Coach and Founder of Levitise.
Michelle Yong, CEO of Aurum Land and CEO & Founder of Core Collective said, "Our focus has
always been to build supportive environments for small businesses to thrive. And we love working with forward looking companies that offer cutting edge wellness solutions. To that end we're delighted to welcome Levitise on board whose holistic solutions are instrumental in helping senior executives reduce stress & anxiety, boost energy, get back in shape and improve their sleep."
Media Preview and Experience: 26 March, Saturday, 9.00am-6.00pm
Address: Core Collective Katong, 112 East Coast Road, #03-01/02, Singapore 428802
For the Editors - for further media enquiries, press photos and/or to RSVP for Media
Preview and Experience and/or Launch Party, please contact:
Alexander Mearns
+65 9634 1940
###
About Levitise
Levitise is Singapore's premier all-encompassing holistic health and wellness centre for C level and senior executives in their 40s and 50s. We provide personalised nutrition and lifestyle coaching, corrective exercise and personal training to help people improve and optimise their way of life.
Levitise's coaches specialise in helping you deal with, and avoid, common health concerns in Singapore such as stress & anxiety, fatigue, poor sleep, weight management issues, hormone imbalances, digestive issues and more serious complications without the use of supplements or medical drugs. Working in harmony with our nutrition and lifestyle coaches, our personal trainers specialise in solving back, neck and shoulder pain, improving joint flexibility, weight management, strength and conditioning and injury rehabilitation.
We have a Full Spectrum Infrared Sauna (near, mid and far) with low EMF, ELF & MF emissions for detoxification, lymphatic drainage, weight loss, pain relief and for generally optimising health.
More Full Spectrum Infrared Sauna info: www.levitise.com.sg/full-spectrum-infrared-sauna-singapore
Homepage: www.levitise.com.sg
Facebook: www.facebook.com/levitise
Instagram: www.instagram.com/levitise 
LinkedIn: www.linkedin.com/company/18241283/admin
About Core Collective
Core Collective is committed to growing centres of excellence where the top fitness and wellness professionals collaborate to deliver the best service and results for our customers, all under one roof. We help our partners start or grow their businesses by providing flexible and convenient access to shared facilities and support services, by fostering collaboration and professional development opportunities, as well as through our local, regional and global expansion plans. Together with our curated community of partners, we offer the widest range of premium services and deliver the best customer experience for our members.
We are a coworking platform for fitness, wellness, medical and lifestyle practitioners to kickstart or accelerate their entrepreneurial journeys by providing best-in-class facilities such as treatment and consultation rooms, exercise studios and gym facilities. In addition to providing flexible and cost-effective coworking spaces, Core Collective supports its members by offering support services such as centralised customer management and payment platforms, joint marketing initiatives, shared receptionists, insurance coverage and much more.
Today, Core Collective has built a community of 21,500 members, 80+ wellness professionals, 70+ personal trainers, 20+ group class instructors and 10+ lifestyle providers. Core Collective currently operates out of two locations in Anson Road and Dempsey with a third location in the East and a fourth in Sentosa underway.
For more information visit www.corecollective.sg
Facebook: www.facebook.com/corecollectivesg
Instagram: www.instagram.com/corecollectivesg