Open Door Policy is a 6 year old restaurant founded by Cynthia Chua, the successful Singaporean businesswoman behind the Spa Esprit Group. It is in the trendy, hipster area of the Tiong Bahru neighbourhood and their speciality is locally sourced, creatively prepared, gluten and dairy free food. It is not organic but their heart's in the right place and besides if we only reviewed organic restaurants we'd have none left to review in Singapore after a few weeks!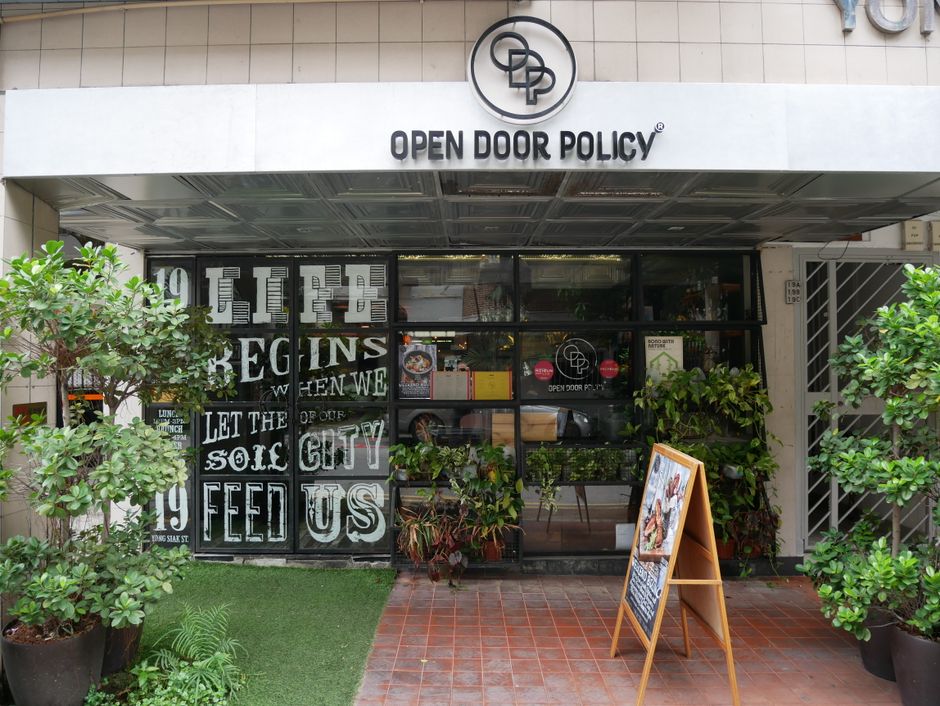 We went pretty late on Wednesday lunchtime and the lunch crowd was pretty much finishing up. That was fine with us as it gave us plenty of time to chat with the staff and the chef. Open Door Policy is a long, thin restaurant like many found in Singapore's shophouses. Most shop house restaurants are quite dark but ODP has a nice atrium at the back which lets in a lot of light. The interior is very natural utilising a combination of light and dark woods, red brick and a cool display of home grown herbs along the wall, some of which are used in their dishes.
What we ate
Scanning the menu the first impression was that this is much more of a proper restaurant like COMO Cuisine as opposed to a café like Kitchen by Food Rebel or The Living Café. They had a comprehensive selection of starters and mains along with a starter + main lunch special for only 25 dollars. We started off with a Hokkaido Scallop Carpaccio on Injera Crispbread and a Rainbow Salad. For mains we tucked into Pastrami Short Ribs, Charcoal Spaghetti and Braised Veal Ossobuco along with Fried Potato Bread and Gluten Free Pita Bread.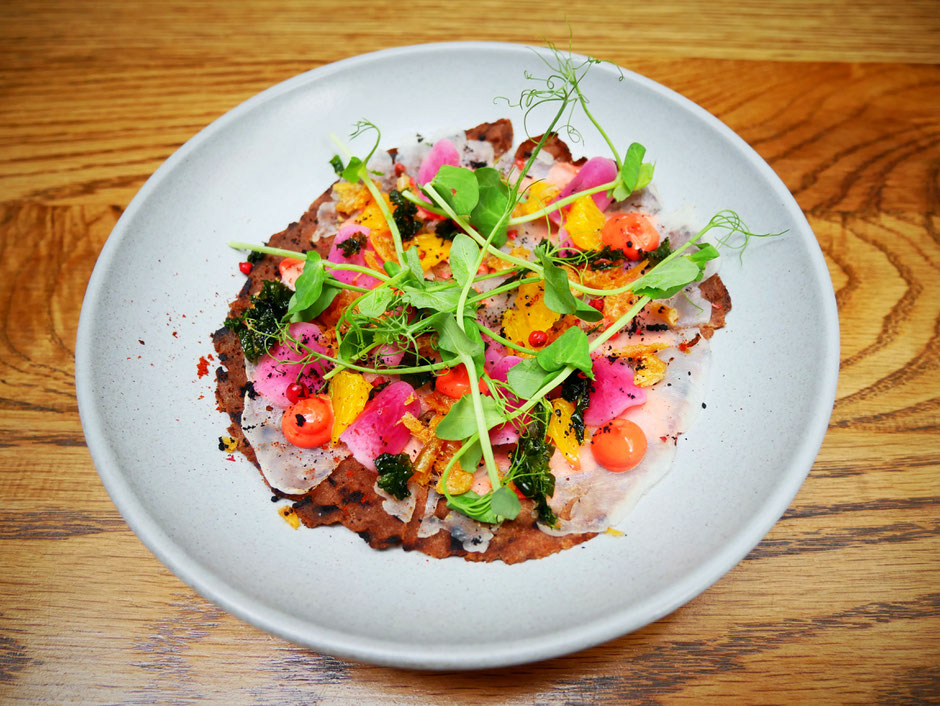 First to turn up was the Scallops and we were immediately impressed with the aesthetic and colourfully composed plating. The medley of ingredients was served on a bed of Ethiopian injera which is one of the best gluten free options we've have ever had. Injera is made with teff flour and soaked in water for several days before baking to make a genuine sourdough bread1. The injera was soft, moist, had a wholewheat taste and was crispy on the bottom. Gluten free, fermented and tasty - a heavenly match! And then popping in a wrapped up bit of injera with the sweet oranges, tangy Korean pepper mayo, sliced scallops and fresh crunchy radish really produced a smorgasbord of delicious flavours and textures. Full marks for this one.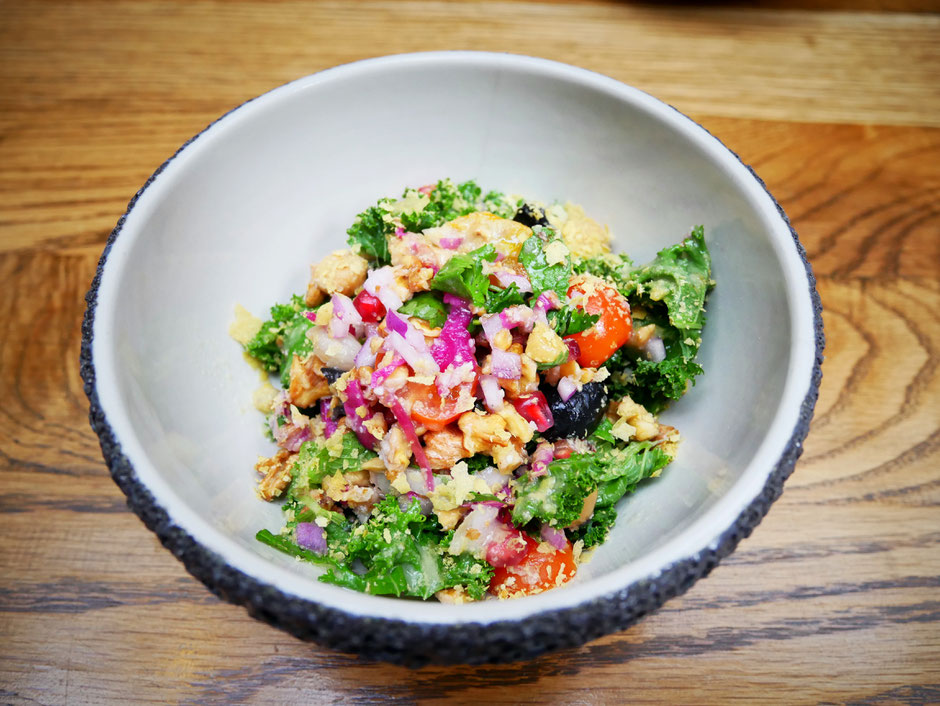 The rainbow salad was also excellent with a mixture of about a million things including cauliflower couscous, pomegranate, dehydrated yellow/red cherry tomatoes, chickpeas, pickled purple cabbage, green kale, cilantro, purple Spanish onions, walnut, mint leaves, black olives and preserved lemon dressing. As with the scallops on injera there was a real gamut of flavours and textures in the salad with the overriding one being the fresh young mint leaves. The nuts and chick peas added a welcome crunch, missing from many unimaginative salads served in most places in Singapore, and it was evidently clear that the combinations were very well thought out by Open Door Policy's chef.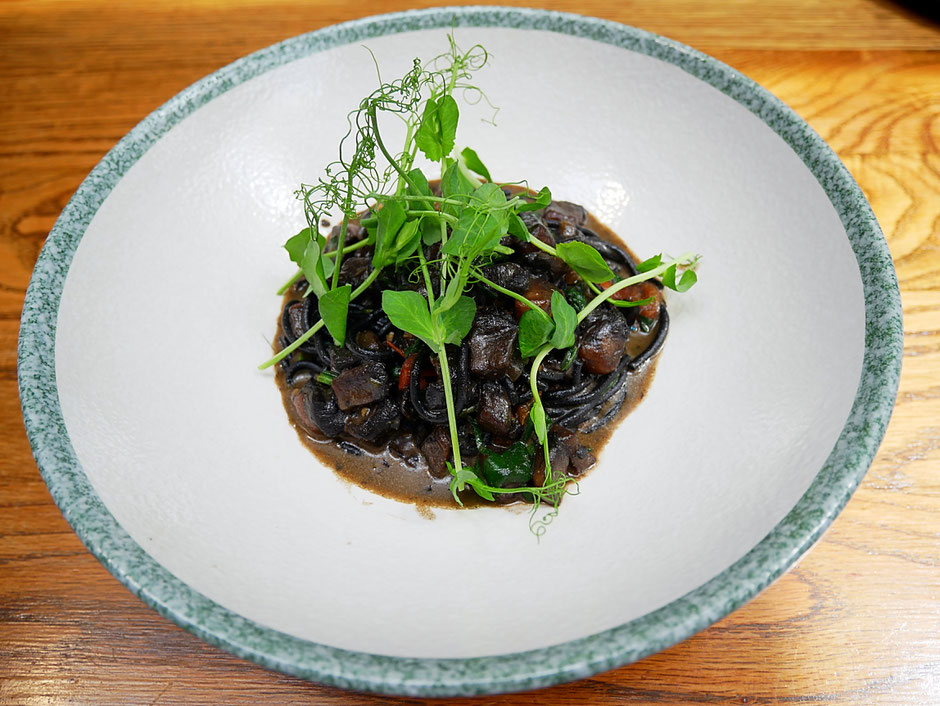 Moving on to mains we had the charcoal rice pasta from japan. The spaghetti was again a pretty decent substitute for the gluten equivalent, a bit softer without the al-dente bite you get from Italian pasta but tasty nonetheless. The mushrooms were really fresh, strong and firmly cooked. This was a solid dish.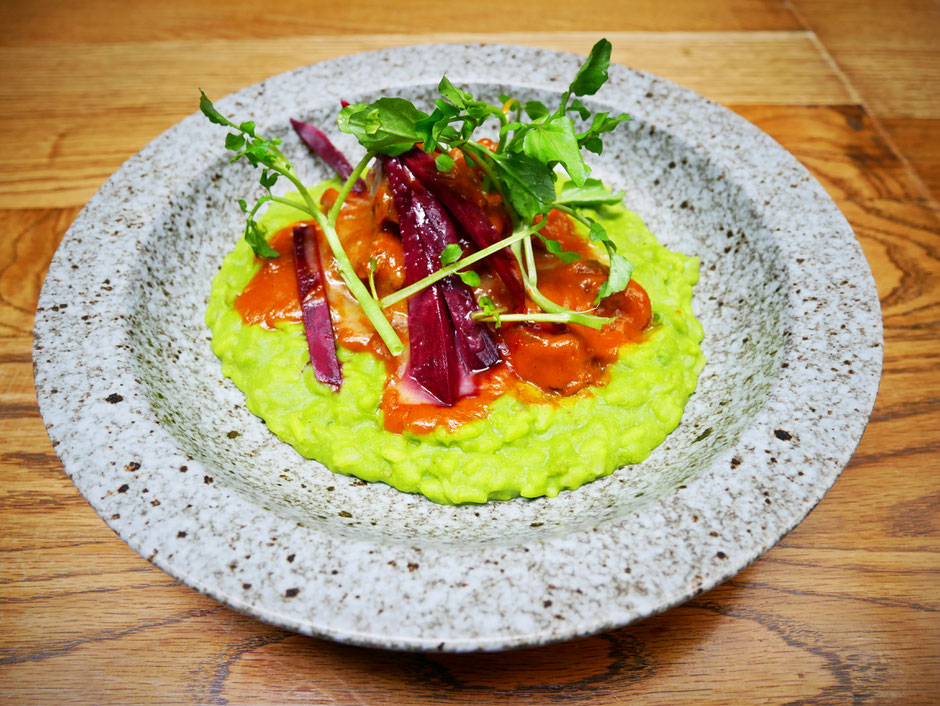 Next up was the Ossobuco (veal shank) which was soft and tender with an authentic Italian sauce. It was sitting on a bed of green pea risotto, a great alternative option for the low carbers. The accompanying fermented purple baby carrots were amazing: firm, crunchy and super sweet and tangy like Valencia oranges.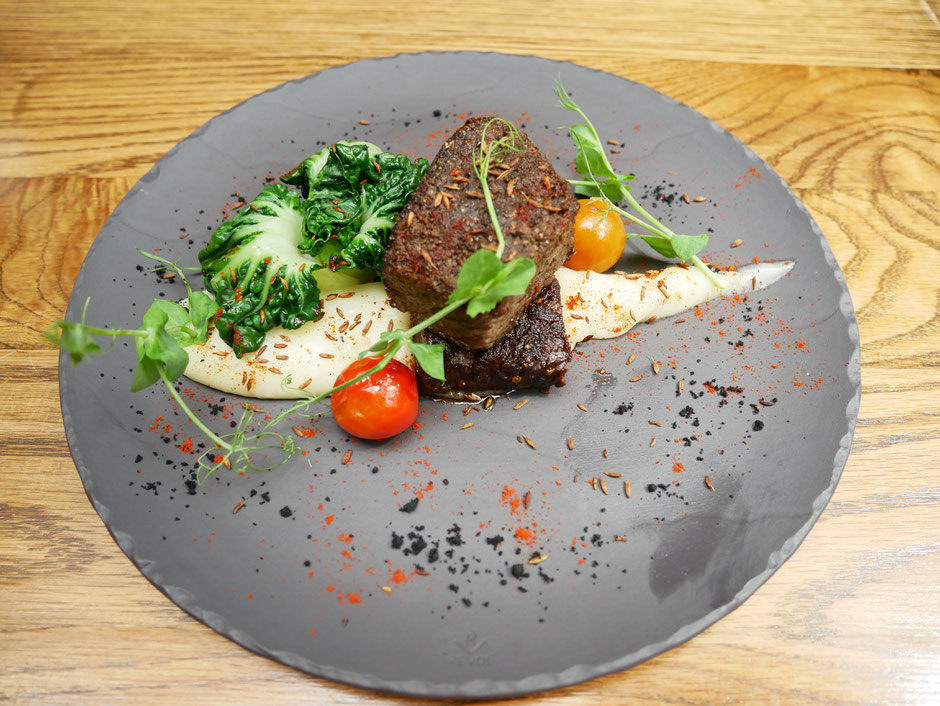 Last up was the Pastrami Short Ribs that came sitting on a bed of olio mash. The mash was pretty good; creamy, garlicy with fennel seeds and paprika. In my opionion it was missing a large dollop of organic grass fed butter but then this is a dairy free restaurant. The short ribs were extremely melt in the mouth tender and cooked in a peppery sauce although if I had any complaints they were a tad dry. The bok choy was the best I'd had in a long time. They were crunchy, a little sweet and a deep green colour so you know you're getting a nice dose of antioxidants!
The gluten free pita bread was pretty good, warm, homey and a great stab at a white flour alternative. It really need a good Rogan Josh to accompany it though! The fried potato bread was amazing, thick, crispy and as crunchy as Kettle Chips. They also make their own white bread using oat flour and rice flour and whilst we didn't try it considering how much effort they have put in to get the ingredients right for their gluten free alternatives I'm sure it would be outstanding
Personally I've always found gluten free breads to be rather drab alternatives to their more common conventionally consumed cousins. Rather than wasting time on a sub standard GF, if I wanted carbs, I would plumb for rice, potatoes or sweet potatoes depending on availability. However Open Door Policy is the first place I've been that offers really genuine and tasty gluten free alternatives. This is the perfect place for those who are new to going gluten free, in the transition phase, and in need of a glutenous fix.
Dessert
The calamansi chocolate tart was the best gluten free cake we have tried. With your first bite the tart calamansi flavoured almond flour centre hits you followed up by the smooth cacao chocolaty biscuit base. It really was very good and we've tried many gluten free and sugar free cakes in Singapore!
Wrapping up
We got the lowdown from the chef on the bulk of their produce including most of the beef that is Australian grass fed, hormone and antibiotic free. The steaks, however, are Argentinian but also grass fed, hormone and antibiotic free. The herbs are from Singapore's Edible Garden City, most of the veggies are from Australia, the Threadfin fish is wild caught and sustainable.
So great job all round Open Door Policy. Big thumbs up all round. Highly recommended.
Spoons achieved
✓ From scratch
Serves mostly (i.e., more than half of the menu) fresh food, prepared from scratch.
✓  Local/Organic
Offers at least some locally sourced and/or organically produced food and/or wild-caught seafood.
✓ Pastured
Offers at least some pastured animal foods.
✘ Organs
Offers some dishes made with organ meats.
✓ Cooking Fats
Cooks (sautés) in natural fats.
✘ Bone Broth
Makes own bone broths/stocks for use in soups, stews, gravies, and sauces.
✓ Seasonings
Makes own seasoning mixes. 
✓ Salad Oils
Makes own salad dressings using olive oil or cold-pressed sesame oil.
✓ Breads
Offers genuine sourdough bread.
✘  Beverages
Offers lacto-fermented beverages. 
✓  Condiments
Offers lacto-fermented foods.
✘ Desserts
Offers desserts made in house with natural sweeteners.
Total no. of spoons achieved: 8 out of 12 spoons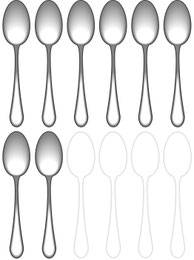 Pros
Some of the most imaginative dishes we have encountered
The best gluten free alternatives we have ever had in Singapore
One of the tastiest menus we have reviewed if not the tastiest
The first place we have reviewed that serves genuine sourdough bread
Cons
Open Door Policy contact details
Address, contact and opening hours
19 Yong Siak St, Singapore 168650
+65 6221 9307
Monday to Thursday (12pm – 3pm, 6pm to 11pm)
Friday (12pm to 3pm, 6pm to 12am)
Saturday (11am to 4pm, 6pm to 12am)
Sunday (11am to 4pm, 6pm to 11pm)
1. Sourdough bread can be made with any grains as long as they are soaked and fermented before baking
Love it? Share it...